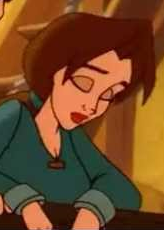 Joanna is the twin sister of John from the Simsala Grimm episode Brother and Sister.
When she and John were young, the witch killed their mother so she could have the family mill and everything for herself and her terrible daughter. She has kept Joanna and her brother locked up ever since. She and her brother needed to escape so they can tell king all about their evil stepmother and stepsister and banish them from the kingdom for good, after Doc and Yoyo helped them escape their chains they set off to find the King.
At the end they succeed and Joanna marries the King.
Gallery